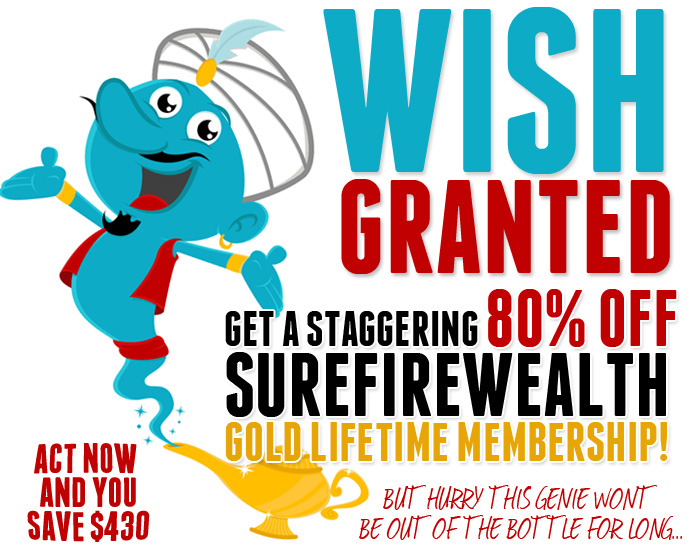 From the Desk of Jeremy Gislason
Congratulations - You've hit the motherload! . . . Right now you're looking at the Best Deal Ever for the #1 source of supply for the majority of hot selling digital information products on the web. We have ALL the digital products with rights you'll ever need to skyrocket your online profits and put your cash flow on steroids.

There's No Other Source Like SureFireWealth.com!
Today you're getting a golden opportunity to become part of SureFireWealth family (one of the most trusted & respected websites in Internet Marketing for over 8 years) We want you to join our 50,000+ Active Member community so you too can take your business and profits to a whole new level...

You'll get instant access to a breathtaking selection of videos, eBooks, reports, software and resources PLUS the rights on many products so you can generate more profits this year.

It doesn't get any better, Gold Membership gives you incredible value and an ROI (return on investment) that will even make your accountant blush - A one time fee gets you a LIFETIME membership!

Gold Resell Rights, Master Resell Rights and Private Label Resell Rights -- The massive Gold collection is one of the most versatile and profit-generating selection anywhere online today. Thanks to the various rights to all your Gold products, the sky's really is the limit.

Gold Bonuses -- Lots of additional perks worth hundreds of dollars, all yours to keep. New Gold-Members-only bonuses are exclusive through this special JVZoo offer.

Gold Updates -- Everything added to the Gold Membership area in your lifetime is yours.

You're guaranteed the most up-to-date, fresh and exciting web products FOREVER!
How Much Is Gold Worth? The actual value on offer is genuinely complicated to stick a value on simply because in addition to the tens of $1000s of dollars worth of goods on the site now, you ALSO get everything that will be released in the future!

This means an unlimited number of new products, hot downloads and resources that will benefit your business for years to come.

Incredible LIFETIME GOLD membership is $497 just $67 through this special offer!
How can we make such an amazing offer?
Simple... over the years we've been in business we've spent well into the 5 figure dollar amounts to obtain the rights to as many great products as we can for our members.
Many product creators also submit their products to our site that become available to our members after they go through our review/approval process.
Plus all products are digital so we can cut our costs and pass that on to our members. We also offset costs with recommended links and special offers on our site that help to pay for new products we add on a regular basis for our members.

This all adds up to huge savings for you as a new Gold member.
What exactly do I get instant access to?
With Gold level You Get Access to 1400+ products in the Free, Silver & Gold member areas! (Try finding that many high quality products in any other membership site on the web at such a low price)

You Get Access to All 180+ products in the Gold Level General Interest / Niche area. These would cost you on anywhere from $10.00 up to $195.00+ for each package if purchased separately elsewhere. We have purchased rights to all of these packages and continue to buy licenses to the latest packages as soon as they come out.

You Get Access to All 400+ products in the Gold Level Internet Marketing area. These could cost you on anywhere from $10.00 up to $297.00+ for each package for private label rights to each product if purchased separately elsewhere. We have purchased or obtained proper licensing to all of these products and continue to buy the latest packages with rights as soon as they come out.

Your Gold membership will Never become outdated like many other membership sites. See for yourself everything you get in the Gold member area.


GOLD LEVEL PRODUCTS YOU GET ACCESS TO
(Reg Price $497 lifetime)
Click Here to see all 180+ GOLD Level General Interest / Niche Products
Click Here to see all 420+ GOLD Level Internet Marketing Products
SILVER LEVEL PRODUCTS YOU GET ACCESS TO
(Reg Price $147/annual)
Click Here to see all 80+ SILVER Level General Interest / Niche Products
Click Here to see all 270+ SILVER Level Internet Marketing Products
FREE LEVEL PRODUCTS YOU GET ACCESS TO
Click Here to see all 90+ FREE Level General Interest / Niche Products
Click Here to see all 400+ FREE Level Internet Marketing Products
Your Gold membership will save you hundreds if not thousands of dollars over time and allow you to Resell Most of these Full Packages and keep 100% of the profits!

What's More...

You will get exclusive discounts in our member's only shopping cart area where you can save $100's even 1000's of dollars. You will get special Gold level discounts to other paid membership sites, private label rights and other products that cannot be added to our member area but you can save on as a Gold member.

Even if you already own some of the products inside, New resell packages are continually added usually ever month and sometimes even weekly...Plus... you get the Special Gold Bonuses so this is more than worth the small one time fee.

There is simply too much to list here You get the upgraded GOLD level which includes everything available to free, silver and gold members. There are many 'hidden' benefits that will delight you as you get to know your SFW Gold member area more.

This is a One Time Payment option and you NEVER have to pay again to use our service. The Silver option is Annual and regular price is $147/year. The regular price for Gold is $497 for lifetime access, but not today since you are on this special offer page!

Now you're getting hundreds of products that you can use yourself as well as sell, give away or even create new products through private label right material as a new SFW Gold Member but ...

Overcoming the biggest obstacle ....
The biggest obstacle our current members have told us is ...once they have access to everything in the SFW GOLD member area....how to get into profits quickly! I get it, you don't want to wait months or years to get your ROI on your membership investment right!?

So we thought long and hard about how to give you as many short cuts to quicker profits as possible.

This is where the following exclusive bonuses come in...
We bought the rights to the Resell Rights Videos (so you don't have to) and these are perfect to help get you started, even if you are totally new to online business & marketing.

Then I pulled a real gold nugget out of the hidden archives that is not even for sale anymore that my business partner and I made for our preferred clients a while back. It's called PLR Domination and we go in depth into some of our marketing secrets to turning products with rights into huge profits. Simon and I have over 20 years combined experience selling online with many millions worth of products sold.

I then called in a few favors from a couple close JV partners who have 10+ years combined experience in the licensing business to add a few more helpful bonuses for you. You'll discover some real gems in the PLR Secrets Webinar. Plus get 5 high quality video training products that you can call your own with full PLR. Then to top it off you'll get BRANDING rights to an awesome video tutorial package that you can use to learn & earn from!

I'm sure you can see that the bonuses alone are worth at least 10 times your Gold membership investment today!

BONUS #1 - Resell Rights Videos - $47 Value!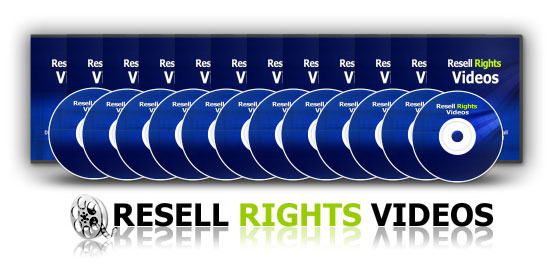 Resell Rights Videos "Now You Can Quickly and Easily Install Your Resell Rights Package with these Amazing Step by Step Videos!"

These 12 videos walk you through step by step to show you exactly how to install your resell rights packages. No longer do you need to scratch your head wondering how on earth you're ever going to get everything setup properly so you can start making money. All the answers are in this package! These are 12 hard hitting videos that show you everything from start to finish...not just examples, this is the actual installation of a resell package! This is a perfect bonus to help get you going with your new SFW Gold membership!

BONUS #2 - PLR Rights Domination - $97 Value!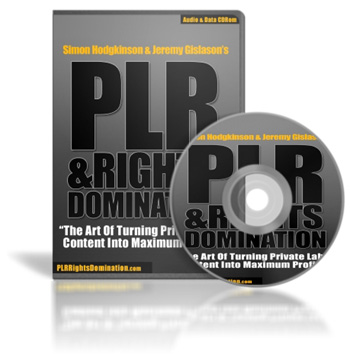 "Two of the World's Top Internet Marketing Experts Reveal Little Known Reseller Secrets that Could Make Your Rich!"

PLR & Rights Domination is a 1 hour 40 minute secret recording held between top Internet marketers Simon Hodgkinson and Jeremy Gislason - And frankly it's unlike anything you've heard before...

There's Gold, pure Gold in this audio... What started out as a simple discussion on 'resell rights' turned into a marathon ''tell all' profits expose, where everything from instantly doubling average order values to the powerful tactics you can use to create a marketing and publishing empire.

This is your chance to discover the little-known and rarely discussed techniques, ideas and strategies that enable these two Million Dollar Internet marketers to consistently pull in more money per month from their websites than most average marketers do in an entire year!


*Not Publicly Available but You Can Get it through this Special Offer Today!

BONUS #3 - PLR Secrets Webinar - $197 Value!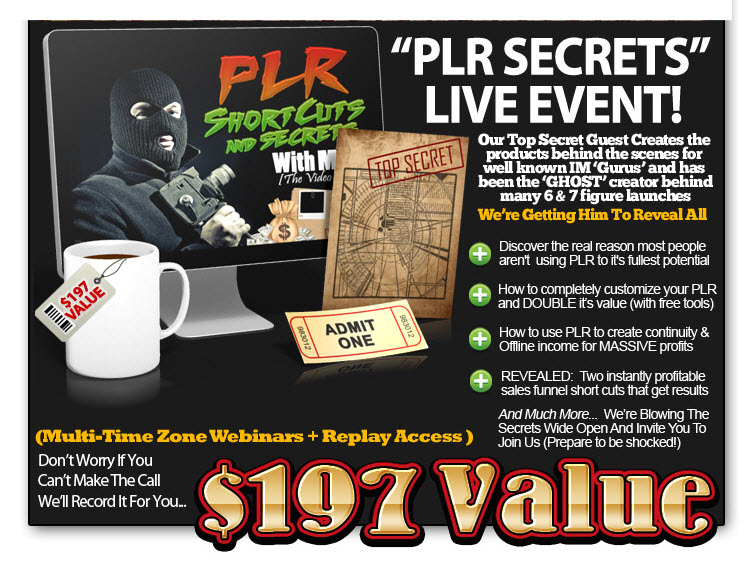 *This is not publicly available!

BONUS #4 - Private Label Rights to 5 Complete Video Training Courses - $197+ Value! (Facebook Timeline, Pinterest Marketing, LinkedIN, Mobile Marketing, Video Support)*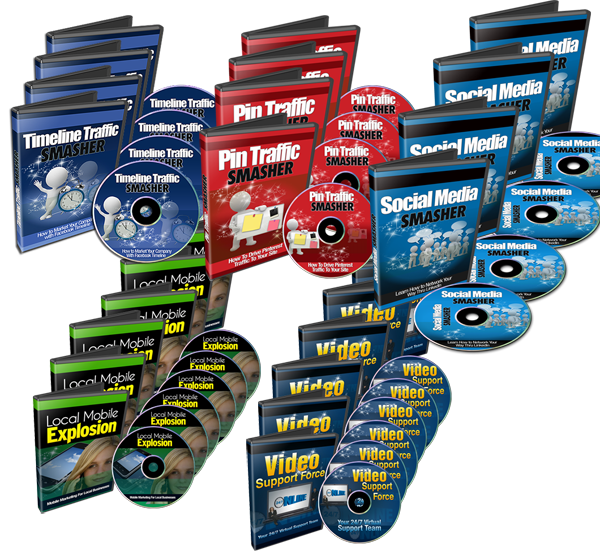 *Compliments of one of our close JV partners through this special offer only!

BONUS #5 - Branding Rights to 38 Video Tutorial Master Resell Right Package $97 Value!*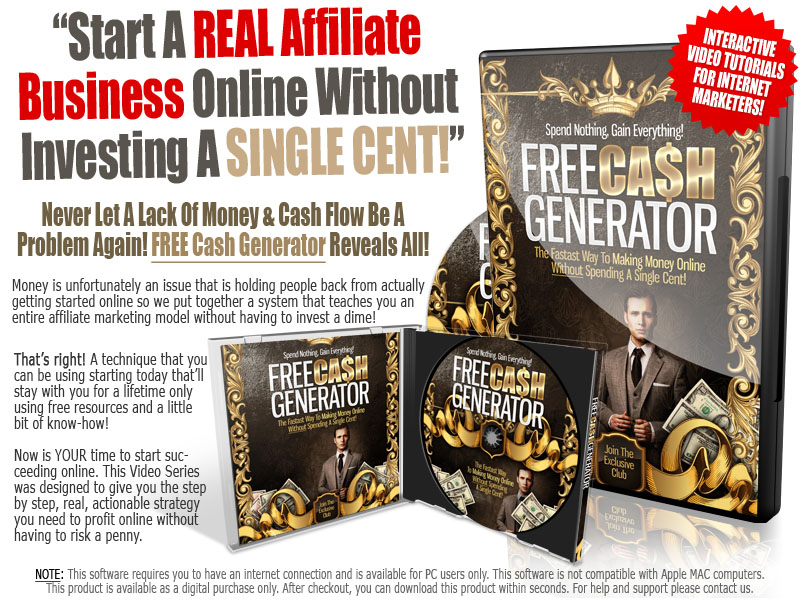 *Branding Rights are not publicly available and are exclusive (compliments of one of our close JV partners) through this Special SFW Gold Lifetime Offer Only!




Getting Gold Membership Now Saves you $430.00!



Plus, Gold member's only shopping cart discounts can Save you $100's!



Plus, 6 Exclusive Bonuses Worth Over $600.00!



Plus, Special Offers to Gold members only saves you money!



Plus, no monthly fees saves you money!



Total money you could save by getting a Gold Membership Now- Over $1,000.00+!!



Knowledge gained and potential growth for your online business - Priceless!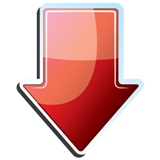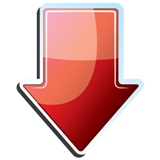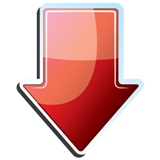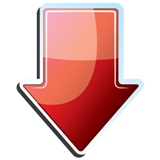 SureFireWealth.com GOLD MEMBERSHIP
Grant me instant access to your "SureFireWealth" Gold Membership so I can start building my own profitable online business!

I'll get instant access to SFW gold membership & get the 6 exclusive bonuses today for just one time payment of $67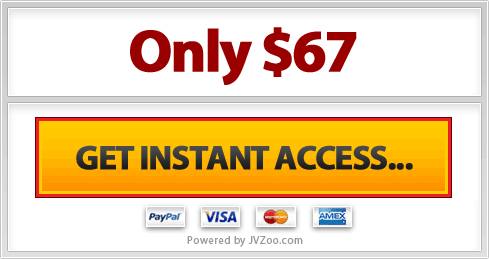 To Your Success!





P.S. 100% Money Back Guarantee! Because we're so confident you're going to love your SureFireWealth.com Gold lifetime membership, we're willing to offer an ironclad, 100% money back guarantee. Try it out and put it to the test! If you aren't completely satisfied, simply contact us anytime within the first 30 days and we'll refund all of your money.

P.S.S. As you can see the regular price is $497 right now and it has sold at much higher prices in the past even. Today you can get it for just pennies on the dollar! But this special offer won't be around forever so make sure to take action today.
Don't just take our word for it though, here's what some of our members have had to say...